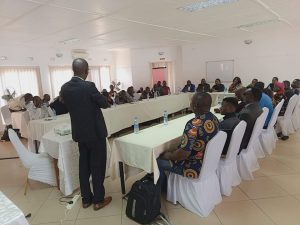 After the 2021 general elections, Community Based Inclusive Development (CBID) networks lobbied local government for inclusion of as many PWDs as possible in ward development committees in accordance with the Law. By mid-2022 there were approximately 147 PWDs sitting in Ward Development Committees (WDCs) country wide of which 30% were women. The recommendation was that PWDs sitting in WDCs should have their  capacity built in specific  thematic areas such as communication skills and others so that they can be effective in participating and contributing to WDCs decision making processes.
Kasama CBID network ran with the recommendation to build capacity of  civic and community leaders by partnering with World Vision International to hold a 3-day capacity building training for Ward Councillors and WDC representatives drawn from all 19 wards in the district. The training addressed salient issues related to the UNCRPD, disability inclusion and local government processes for accessing development funds. The training was ranked highly by both ward Councillors and WDC committees, as it had bridged the gap between on one hand the Local Authority /Ward Councillors and on the other the communities they serve.
The impact of this training in Kasama, has inspired other districts to replicate the activity in the year 2024.